All animals are entitled to kind and respectful treatment at the hands of humans and must be protected under the law.
If you want to receive an Adoption Application, email ddougherty64@icloud.com and you will receive a pdf form. Return application to jabmhs@yahoo.com

Today is
and
Welcome to the website of the James A. Brennan Memorial
Humane Society
New Promotion, click below

NEW HOURS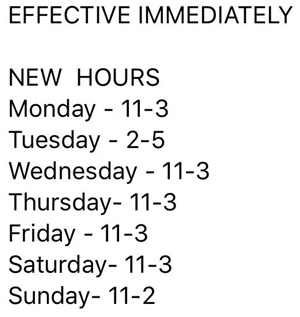 If you need additional assistance, please contact us at
James A. Brennan Memorial Humane Society
437 Nine Mile Tree Rd
Gloversville, NY 12078
Phone: 518-725-0115
ddougherty64@icloud.com or jabmhs@yahoo.com

LOST

Please help a cute little kittie Styopa reunite with his loving family. My black male cat is missing since 08/25/2021. He disappeared from Amsterdam, NY. My kittie's name is Styopa. He is shorthaired, velvety black with a white chest. He is 1 year old. Non-neutered. The fact is that he is missing since August 25th. I took him over to the cat sitter's house to keep him under her care while I will be outside of the country for a month. But a day after, he ran away from her home property.My family, my kids, mom, Styopa's sister Masha, and I missing him so much. He means everything to us since he is a part of our family. His sister Masha is looking out of the window 24/7 and waiting for him. My kids, mom, and I are crying. We need him so much. He needs us too.

My email address is natamarmaid33@gmail.com. My cell phone number is 518-888-0479 (text or call).

Many thanks to all of you!
None at this time
OUR PETS OF THE WEEK

Tanner

They don't get much more handsome, goofy or snuggly than Tanner?? Tanner is around 2-3 years old and is some kind of Walker Hound mix(so he is taller and bigger than a beagle). Tanner loves people, and is good with medium and large dogs. Cats are a definite no. His adoption fee includes his neuter, vaccinations, and 4dx testing.

Tyson

Look at this face! Tyson desperately wants a family. He needs a home with no children and most likely no cats. Please share, so we can find his forever home.
Home | About Us | Adoptable Dogs | Adoptable Cats | Happy Tails Latest Scoop | Donate | Animal Cruelty | Forever Loved |

| Community Support | Helpful Links

D. Dougherty, webmaster

jabmhs@yahoo.com or ddougherty64@icloud.com