Click here for our community spay/neuter program info

Help us by raise funds joining iGive. com
Adoption Application
Click here to download an Adoption Application (pdf)
Click here to download an Adoption Application (Word Doc)
Do you have

to

RECYCLE?
Bring them up to us. The money from those bottles and cans will help feed and maintain our dogs and cats.
REMEMBER!
If you take your dog for a walk, remember to pick up after them after they do their business.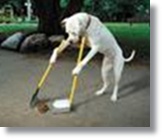 Do you need some tips on raising your dog? If so click here.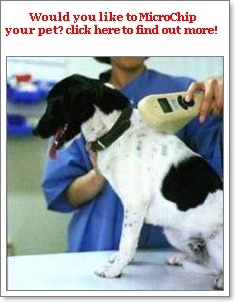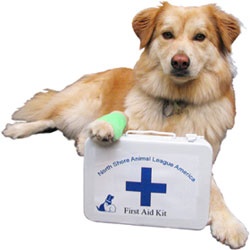 First-Aid Kit Essentials
Emergencies seldom give warning, but we can be ready for them. Most people have first aid kits on hand for themselves and family members. But what about your animals? Pet care experts recommend having a pet first aid kit that's right where you need it if an animal emergency occurs.
You can buy kits that are pre-assembled or assemble your own. Keep them in different locations so that you are prepared at all times, in all places. It's wise to keep one kit at home, one in the car, and wherever else your pet spends time -- the office, a relative's or friend's home, a vacation retreat, etc. If customizing your own, use a container that is sturdy, waterproof and easy to spot when you need to locate it in a hurry.
Here is what every basic first aid kit should contain:
Phone numbers and addresses: Veterinarian, Emergency Vet, Poison Control
Basic pet first-aid book
Photocopies of your pet's paperwork: important medical records, vaccinations, etc.
Medical gloves: to protect hands and prevent contamination
Scissors: to cut gauze or the animal's hair
Bottled water
A mild antibacterial soap: to clean skin and wounds
Paper towels
Gauze pads: for wounds
Gauze rolls: for wounds and can also be used as a temporary muzzle
Alcohol prep pads: to sterilize equipment - NOT for use on wounds
Self-adhesive bandages: flexible bandage used to wrap and stabilize injuries (do not wrap too tightly)
A large cloth towel: to wrap animal
Hydrogen peroxide: to clean minor wounds
Eyewash: such as contact lens solution or water in a squeeze bottle to gently but thoroughly flush out wounds and eyes
Antibiotic ointment: for cuts and abrasions (never for eyes)
Cotton applicator swabs
Tweezers: for the removal of foreign objects from skin and paws; and for the proper removal of ticks
One important rule to observe: make sure to always read directions and warnings before applying any medications, either prescribed or over the counter, to your pet. If you have an emergency, you should always contact your veterinarian for further instruction.
Please make sure to always read directions and warnings before applying any medications to your pet
12/21/14

Click here to see our Pets of the Month
Important Info

Stray dogs need to be held for 6 days to allow time for their owners to claim them. If its owner does not claim a dog they will be available for adoption. We are looking for lifelong responsible homes for these wonderful pets.

Dog Adoption Fees

$175.OO

Puppies 6 mos. or less, $35 s/n hold

Fee includes Spay/Neuter, Rabies, Distemper,

Bordatella and Heartworm Test

Ages of dogs are estimates unless previous owners inform us as to correct age.

2014 Rabies Clinics

ADOPTION FEES FOR ALL DOGS IS $175.00
All we want for christmas is a new home and a family to love!
Maddy

I'm Maddy and I am a 1 yr. old Female Lab mix. I just love people and it would be fun to be in your house!

$50 of my adoption fee has been sponsored

Higgins

This very nice and friendly guy is Higgins. He is a 2+ year old Male Pit who is a real gem. He is house broken.

$50 of my adoption fee has been sponsored

Opie

Opie is a 4 yr .old Male Bassett/Jack Russell mix. He is a cute lovable guy who is very friendly. He loves playing with tennis balls. Come up and meet him!

$80 of my adoption fee has been sponsored

Snickers

Snickers is a Female mix who is a lover and a kisser. She is very happy around all people. She has lots of energy.

Dundee

Meet Dundee. This guy loves everyone and seems to be okay with other dogs. Stop in and meet this giant love bug. He is always ready with a kiss for you!

Scout

Scout is a Male Hound Mix. He is a nice friendly fellow.

Jasper

This handsome young man is Jasper. He is between one and two years old. He loves people.

Rudolph

This is Rudolph, a Male Brindle mix who very sweet and friendly.

Donner

This big guy is Donner. He is very friendly and wants to be in a home very much

Peaches

Peaches is a white female toy poodle approx. 5-6 years old. She is puppymill survivor available for adoption. She does well with other animals, she is not housebroken, and needs to be socialized with people. Very sweet girl.

Apricot

Apricot is an apricot colored male toy poodle approx. 4 years old. He is puppymill survivor available for adoption. He does well with other animals, he is not housebroken, and needs to be socialized with people. Very sweet guy.

Doxy

This pup is Doxy. He is a Dachs/Beagle mix. He is very sweet , friendly and loving.

Frosty

This is our boy Frosty. Frosty is a two year old white boxer who came to us from a breeder. He has a super personality and loves everyone.
There's no time of year quite as magical as the holiday season. As soon as those first snowflakes of winter begin to fall, most of us begin to contemplate how we'll celebrate the various winter holidays. There'll be meals to plan, gifts to purchase, and plenty of decorating to be done.

It's easy to get caught up in the festivities, but pet owners also need to keep their animals in mind to help assure they make it safely through this wonderful but hectic season. Let's look at some of the typical holiday preparations and how we can lessen potential hazards for our pets.

Decorations

For many of us, decorating our home is the first step in preparing for the holidays and many of the items we use are not typically found around the house all year long.

Being naturally curious creatures, dogs will want to thoroughly check out anything new that comes into the house and here is where some potential problems can come into play.

Christmas Trees

Celebrating the holidays with your dog is bound to involve setting up the traditional Christmas tree. Here are a few ideas and tips to consider.

Live or Artificial?

Of course, there's nothing like the look and smell of a fresh, live Christmas tree, but how will it affect your dog? Live trees often carry unseen molds that can cause allergic reactions and/or respiratory distress in some pets and people.

If this the first Christmas you and your dog will be spending together, you might want to try a little test before setting up the entire tree. Bring a sample of your chosen evergreen into your home for a few days, allowing your dog to sniff it under your supervision. If you don't observe any negative reactions, it's probably safe to put up a live tree.

However, if your dog does show an adverse reaction, remove the branch immediately; wash your pet's face to remove lingering traces of the allergen and plan on enjoying an artificial tree this year.

Set Up and Security

Choosing just the right placement for your tree also makes a difference to your pet's safety.

· Consider purchasing a smaller tree and setting it up on a table top, out of your dog's reach.
· Full size trees are best set up in a corner where your pet's access can be limited.
· If possible, wire the top of the tree to a drapery pole or staircase banister to lessen the chances of it tipping over if your dog accidentally bumps into it.
· Wrap the base of the tree and stand in plastic wrap to keep you dog from being tempted to drink the water, which can be toxic as fertilizers and other chemical compounds leach from the tree.
· Opt for plastic or resin ornaments instead of breakable glass, and resist hanging ornaments at the bottom of the tree where they'll present the most temptation to your pet.
· Hide those electrical light cords at the back of the tree, and hide any exposed cords or strategically place pieces of furniture to keep your dog from chewing them and possibly being electrocuted.

Seasonal Plants

Holly, Poinsettias, and Mistletoe are all abundant during the holiday season, but sharing Christmas with your dog means keeping these beautiful plants out of Fido's reach.

Each of these plants carries some level of toxicity for our pets. The intensity of the reaction depends a lot on the size of your dog and how much he might ingest.

The reaction may be something as mild as a skin rash or excessive salivating, however, more serious reactions can include:

· Vomiting
· Diarrhea
· Respiratory distress
· Heart complications

Don't risk finding out which symptoms might affect your dog, simply keep the plants out of your pet's reach on a high table or bureau.

Candles

Candles play a prominent role in many holiday celebrations. Advent wreaths, Menorahs and other lights may enjoy a prominent place in many homes, but they need to be kept in places where there is no chance that a bump or a tail wag may send them toppling causing a fire risk.

Food

Food is a big part of most holiday traditions, but many of the delicacies and treats we enjoy are not suitable for our pets.

Avoid feeding your dog:

· Chocolate: It's toxic to your pet.
· Macadamia nuts: These are another toxic item for your dog.
· Turkey, chicken, or duck bones: These may be tasty, but they pose a choking hazard.
· Onions: These can cause heart problems when eaten in volume.
· Raisins and grapes: These items can cause renal failure when consumed in high quantities.
· Alcohol: Not usually on your pet's menu, but holiday entertaining may include serving alcoholic beverages that might become available to your pet if left on a low table.

Gifts

The most pleasurable part of celebrating Christmas and your dog is picking out a few choice presents for your furry friend. The same items that would be appropriate any other time of the year are good at Christmas too.

· Watch out for small toys or pieces that could break off an item and pose a choking hazard.
· Be sure that any item you give your pet is size appropriate.
· Check the ingredients used in treats to make sure your pet isn't allergic to anything listed.

Conclusion

While safety is of prime importance, the most important thing to remember about Christmas and your dog is to watch him for stress.

Lots of hustle and bustle, changes in the home, and strangers coming and going can all take a toll on your pet. Be sure to leave some quiet time in the schedule to give both of you an opportunity to decompress.