Mission

Help us by raise funds joining iGive. com

Click here for our community spay/neuter program info

Dogs
Did YOU Know?
Did you know it is against the law to abandon an animal? The New York State Agriculture & Markets Law, Article 26, Section 355 states: "Abandonment of animals. A person, being the owner or possessor, or having charge or custody of an animal, who abandons such animal, or leaves it to die in a street, road or public place, or who allows such animal, if it becomes disabled, to lie in a public street, road or public place more than three hours after he receives notice that it is left disabled, is guilty of a misdemeanor, punishable by imprisonment for not more than one year, or by a fine of not more than one thousand dollars, or by both."
The Humane Society of the United States has launched a new program to help save dogs from some of the worse puppy mills across the country. Thanks to a generous donor, The HSUS is now offering a reward of up to $5,000 for information leading to the arrest and prosecution of a puppy mill operator for animal cruelty.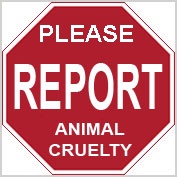 Animal cruelty encompasses behavior harmful to animals ranging from neglect to malicious killing. Most cruelty investigated by humane officers is unintentional neglect that can be resolved through education. Intentional cruelty, or abuse, is knowingly depriving an animal of food, water, shelter or veterinary care or maliciously torturing, maiming, mutilating, or killing an animal.

Animal cruelty does not include barking dogs, loud cats or loose animals. If you have a problem with a loud animal, call your local police agency. If you see a loose or vicious animal, or an injured animal on the side of the road, call your local animal control.

Here are the telephone numbers to report Animal Abuse.

| | | |
| --- | --- | --- |
| Area | Name | Phone Number |
| Bleeker | XXXX | XXXX |
| Broadalbin | Jane Potts | 842-1847** |
| Town of Mayfield | Jane Potts | 842-1847 |
| Village of Mayfield | Jane Potts | 842-1847 |
| Caroga Lake | Howard Dutcher | 835-8209 |
| Ephratah | Dan Robinson | 762-7658 |
| Galway Area Control Off. | Tom O'Brien | 882-6237 |
| Gloversville | ***** | 773-4514 ** |
| Hope | Carol McQuade | 924-2098 or 924-5141 |
| City of Johnstown | Kelly Warner | 736-4021 |
| Town of Johnstown | Nancy Hart | 762-8763** |
| Lake Pleasant | Mike Peck | 548-5404 or 548-5141 |
| Northville/North Hampton | Vern Duesler | 863-6316 or 883-8402 |
| Oppenheim | Ken Decker | 315 429-3424 |
| Perth | Mike Smith | 842-8816 |
| Stratford | Karen Jaquay | 315 429-3966 |
| Wells | Dick Wilcox | 924-5451 |